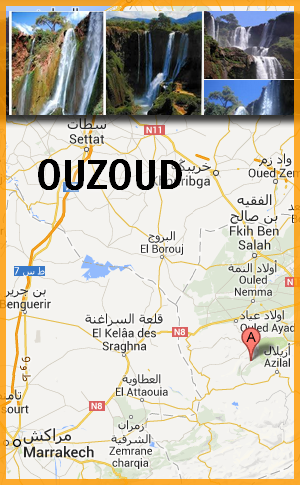 Pick up from your accommodation at 8 o´clock in the morning, and depart to Ouzoud waterfalls.
Located 160 km from Marrakech and close to Azilal, we find one of the most interesting geological sites of the Middle Atlas. These waterfalls are doubtless one of the most spectacular all over Africa, the visitor will be astonished with the landscapes and will be able to enjoy swimming in the charming waters of Oued Ouzoud, specially in summer time.
We can be sure that you´ll be amazed staring at the 110 meters falling water.
We recommend making a stop at the lookouts by the edge of the road, take a look out to the abysm and let your emotions fly with the strong sound of the water and the wonderful views. If we are lucky, on the way we´ll see the funny macaque monkeys that can mischief even the most wise visitor.
We´ll visit the traditional ancient water mills.
Free time for lunch near these beautiful waterfalls.
In the afternoon, return to Marrakech, transfer to the hotel and end of the tour.
[box type="help" style="rounded" border="full"]Contact us for more information. E-mail: saharatours4x4@gmail.com [/box]