Ourika Valley and High Atlas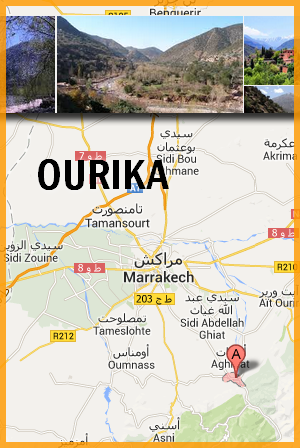 You`ll find in Ourika valley one of the most exotic areas of the region.
Located in the High Atlas, at only 60 km south from Marrakech offers a beautiful scenery, maybe the best you can see.
Our trip to Ourika Valley (its name is due to the river that goes through) includes a stop in the authentic berber market of Asni where families of the valley make their daily purchases. Then we continue to visit an authentic berber family where we will see their house, the way they live and learn how to prepare a delicious mint tea.
After having tea we continue our trip to Setti Fatma, a moroccan village renowned for its seven waterfalls. The trajectory here takes approximately one hour travel, having the chance to see a genuine "Berber fridge" where bottles are stacked on top of others and refreshed by a stream of water falling from the mountains keeping them cold. This village still has the charm of a small town and preserves the adobe houses and a peaceful life.
Free time for lunch in this beautiful place where we can enjoy moroccan hospitality and savour its gastronomy.
Return to Marrakech, transfer to the hotel and end of the tour.